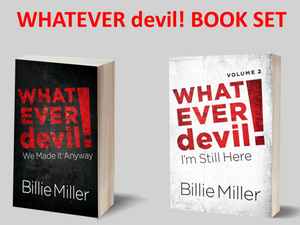 Here's one of the BEST offers we have! Get BOTH "Whatever devil!" Books (Volumes 1 & 2). in one set. So so much POWER in these books. Not only will you be FILLED with hope and inspiration to move forward, but you'll gain the WISDOM to make it all happen. The books are $16.95 each, but you can get BOTH books for ONLY $25.99. 
In the Whatever devil! Book Set you will discover:
How to RISE above any storm.

POWERFUL stories that will BOOST your faith.

What is WISDOM and how to GET it.

How to RECOVER after failure & disappointments.

How to WIN with forgiveness.




How to never lose HOPE again. 

How to VALUE and manage your TIME.

...and much, much MORE!
This Special Offer is only for a Limited Time, so order NOW.