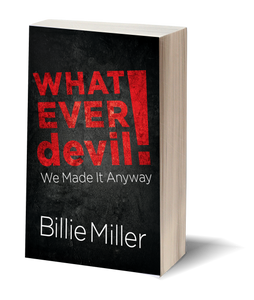 When it seems IMPOSSIBLE and the odds are against you, it's the perfect opportunity for a BREAKTHROUGH. With God's help, you can defeat the odds and rise ABOVE statistics and stereotypes. God can make it COUNT when people count you out. This book is filled with this type of faith.

IN "WHATEVER devil!" YOU WILL DISCOVER:

•POWERFUL stories that will BOOST your faith.
•How to OVERCOME obstacles and challenges.
•Biblical principles that will help you GROW.
•How to RECOVER after failure and disappointments.
•Easy-to-read, wisdom-filled words on every page.
•How to NEVER lose hope again.
•…and much, much more!

"Billie Miller has done it again! Whatever devil! is sure to be a household favorite. You won't regret getting this book!"
– MELANIE BONITA, Inspirational Speaker & #1 Amazon Bestselling Author,
Daily Dose of Determination

"Billie Miller is such an awesome writer. Whatever devil! is an inspiring book you'll want everyone to read, so you might as well get more than one copy. You'll see!"
– JENNIFER KOSTYAL, Author, Speaker and Founder,
Transformed By the Word, National Prison Ministry

In this eye-opening book, you will personally connect with each person's testimony. You will empathize with their pain and celebrate their victories. Billie also takes the wisdom learned from each story and teaches you step-by-step how to apply it to your life. This book has also been coined, "The Book of HOPE".
What are you waiting for? Click the "Add to Cart" button above and order your autographed copy TODAY!"